Many of the products and services available today had not even been imagined a generation ago. With increasing innovation come not only unprecedented opportunities but also growing demands from consumers, regulators and businesspeople. Technology is no longer only an industry but rather an integral element of every business and person's life.
DaHui is at the forefront of the next generation of technology. We focus on providing cutting-edge legal representation to pioneering startups disrupting traditional business models as well as to traditional enterprises transitioning to new economies. Our clientele includes the who's who of blue-chip, red-chip and local backyard-garage businesses and their investors. Not only do each of our attorneys have hands-on expertise in one or more high-tech sectors but it is also part of the firm's DNA and we even employ an in-house team of software engineers to develop and enhance our IT systems for supporting our and our clients' goals. And like technology, DaHui's services are not bound by borders.
As AI, blockchain and attendant technologies are being embraced or challenged, DaHui has offered critical regulatory advice and assisted companies and investors to make prudent yet profitable moves. As autonomous vehicles, robotics and virtual reality have come to life or gone through growing pains, DaHui has supported enterprises to enter new markets, protect intellectual property and resolve local and international disputes. As the Cloud, SaaS and IoT have permeated every corner of the globe, DaHui has helped in the structuring and financing of innumerable business lines across countless cross-sectors – aviation, automobiles, exhibitions, education, entertainment, finance, healthcare, hospitality, publishing, sports and of course cloud computing and other tech services themselves. The scope of our areas of expertise and services is extensive and includes the following: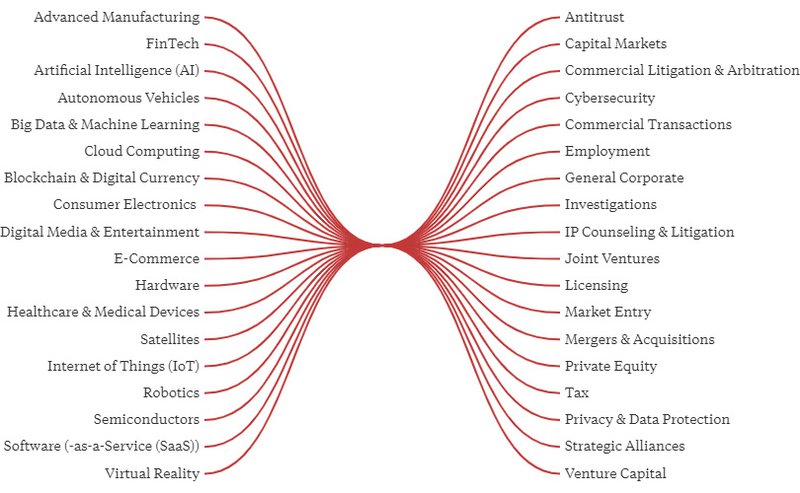 Any strategy for success in developing, deploying or even only integrating technology in business today demands a forward-thinking, global and cross-competency outlook. Prepare for, if not lead the way in, revolutionizing technologies and business models. Anticipate, if not influence, growth shifts and consumer demands. And tap into prevailing and emerging regulatory trends and attitudes.
DaHui's tight, agile yet interconnected teams tackle the full range of daily operating matters and extraordinary events arising in doing business with the most traditional to the most innovative technologies. Many of our lawyers have technical degrees, worked in-house at high-tech MNCs or groundbreaking startups, have experience in relevant legislative or regulatory roles and/or have dedicated decades of their career to particular tech sectors. In fact, our entire firm – offering both next-generation legal counsel and specially-developed tech tools – is always aiming to accompany and support businesses in breaking through to unimagined horizons and reinventing the world.