DaHui is a member of MSI Global Alliance (MSI), one of the world's leading international associations of independent legal and accounting firms.
With a successful track record of over 30 years, MSI is a leading international association of over 250 independent firms in more than 100 countries. Drawing on their wealth of combined experience, MSI's accounting, legal and advisory member firms deliver multidisciplinary solutions supporting the gamut of business needs.
Membership in MSI facilitates DaHui's quick sourcing of reliable, local expertise wherever in the world clients are involved in doing business.
For further information on MSI Global Alliance, please visit www.msiglobal.org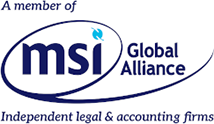 DaHui is a member of TAGLaw®, an elite worldwide alliance of more than 160 independent law firms, providing a full range of legal services to clients all over the world.
Founded in 1999, TAGLaw has quickly risen through the ranks and today, with more than 9,500 lawyers located in 400 offices in over 95 countries, is one of the world's largest legal alliances. Chambers and Partners recognizes TAGLaw as one of just nine global "Leading Law Firm Networks: The Elite".
TAGLaw combines with its sister associations, TIAG® (The International Accounting Group) and TAG-SP®(Strategic Partners), to form an international, multidisciplinary alliance of independent professional service firms known as TAG Alliances®. TAG Alliances' 290+ member firms, operating in 110+ countries, provide near global coverage for legal, accounting, financial and advisory, insurance brokerage, wealth management and other professional services.
For further information on TAGLaw and TAG Alliances, please visit www.tagalliances.com